ECOMOBILE
---
Introduction
---
(automatic traduction by SYSTRAN Software inc.)
The Terrestral CYBER-MOTOR CYCLE
The motor cycle of Camille and Patrick

The ECOMOBILE 5037 on the Circuit of Merignac (Bordeaux)
A " bomb " monotrack for a comfort with 120%
Ecomobile, conveys monotrace par excellence, it is of Hyperréalisme accessible to two witnesses on the bitumen which binds all the cities and the collars of Lisbon to Vladivostok without the misdeeds of side accelerations.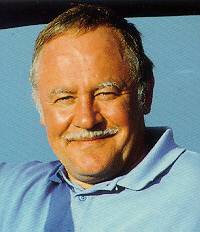 Arnold
Drafting Eco
Aileron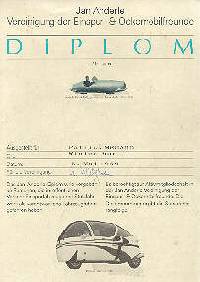 Certificate
Why seek another thing, and roll then without safety
The research of the pleasure, it is one of our hobbies principal.
The absolute pleasure of exploration, it is to roll hyper-confortablement to two on the roads of France and Navarre to seek the castles quickly (with knights!) while trying never not to too much defy Pandores to avoid overloading the budget of the voyages with our excesses in permanent relative flight, but in absolute safety!
A little technique


3.6 meters length, 2.7 of footing

380 to 440 kg following the options (Sound system, climate, turbo, etc.)

260 to 340 km/h

powered by BMW motorbyke

100 to 170 CV with motorization BMW K100, 1100,1200 and 1200+turbo of FIAT-Uno

3.5 to 6 liters with the 100km (6 to 220 of average!)

Tank 48 liters, autonomy > 1' 000 km

Almost indestructible (100% Kevlar monoshell)

More than 55 degrees of slope in turns (until the touch of the casters)

Centre of gravity flattened (L 'Eco is with the motor bike what the kart is with the car)

No influence out of Bi, masses variable on CDG (gasoline and passenger)

Braking integral ABS

Electric commutator speeds

Reverse gear with magnetic locking

Manual train controlled by computer (boarding time or descent 0.5 dryness.)

Garnishing leather

Hi-Fi 4 ways

Ventilation 3 speeds
Case with luggage back of 220 liters

NEW: electronic aileron (patent deposited: to see plane)


Limit the side slope
Deadened the gusts in dynamics
Softened the orders
Stabilize the trajectory at very high speed

Approved in Switzerland, Germany, Austria, the Benelux countries, Japan, etc.



Manufactured by SA PERAVES, P.D.G. Arnold WAGNER, in Winterthur in Switzerland
Passengers of the 5037
Patrick Mégard, the usual pilot (diploma Jan Anderle no.25), data processing specialist and engineer in aerotechnics.
Camille Duvernay, usual passenger and pilot (diploma Jan Anderle no.115), occupational therapist A.F.H.
And there, it is almost finished
Good day and greetings left hand out of V with all the motorcyclists " without roof "
---